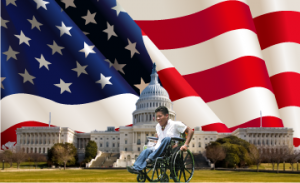 Today is an Independence Day celebration for more than 50 million American children and adults with disabilities. 24 years ago, the Americans with Disabilities Act (ADA) was signed into law, eliminating discrimination in employment, transportation and public accommodations.
In addition to the very important "breaking down" of physical barriers such as curb cuts, ramped access to buildings, automatic opening doors and accessible public transportation, there is another legacy of the ADA. People with disabilities have equal rights and opportunities to pursue their dreams. Americans are increasingly looking beyond a disability – physical and cognitive – to see people like themselves, who each day seek the same opportunity for rewarding jobs and fulfilling lives.
Enabling people with disabilities to have access to education and assistive technology has expanded opportunities in the workplace. More companies are hiring people with disabilities and many have specific initiatives under their diversity programs. These companies have learned that hiring people with disabilities is not charity – it is smart business.
Many serious challenges still remain for the 52 million children and adults with disabilities. However, today please take a moment to celebrate the anniversary of Independence Day for Americans with disabilities!
–   Bill Knudsen, President & CEO, Ability Connection Texas