Pete Sessions announces ABLE Act of 2013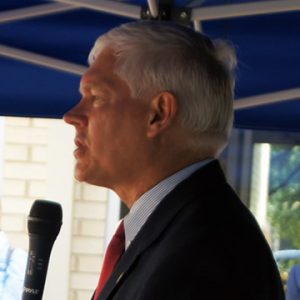 Congressman Pete Sessions, an advocate for individuals with disabilities, declared that "every child matters" Tuesday at a check presentation by Wells Fargo to Ability Connection Texas (ACT).
View our Facebook album of the presentation
---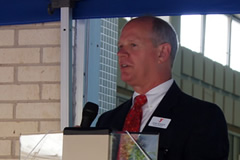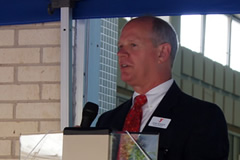 Children enrolled in ACT's Early Childhood Development and Education Pre-School participate twice weekly in the Park Cities YMCA's swimming program which was launched three years ago through the financial support of Wells Fargo.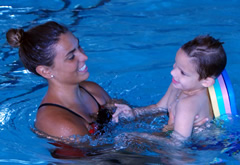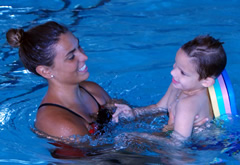 The adaptive aquatics program includes instruction on how to float independently and with a device, how to control breathing, kicking, basic paddling, front crawl, back stroke and jumping or diving into the pool.
---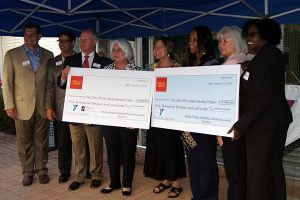 Andrea Petro, executive vice president and division leader of Wells Fargo Capital Finance, announced the continuing funding of the adaptive aquatics program. She presented both ACT and the Park Cities Family YMCA with $5,000 checks.
John Reniger, Wells Fargo Capital Finance senior vice president and a YMCA board member, served as the emcee of the program. He emphasized the collaborative relationship that exists between the YMCA and ACT. Reniger and his wife, Christie, are co-chairs of Vine & Dine, a gala event held each November benefiting ACT.
---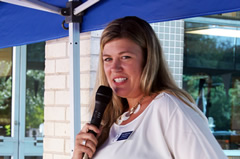 Barbara Cravey, director of ACT children's programs, described the many physical and psychological benefits of adaptive aquatics. She related the story of Sage who recently took his first steps due in part to the muscle strength and flexibility gained through the program.
Click here to view a video of Sage walking
---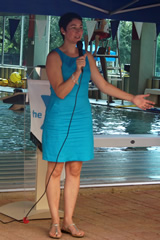 Vanessa Peace gave a parent's perspective on the swimming experience, saying "it takes a village to enable a child with special needs to thrive". Her four-year-old daughter, Ella, was diagnosed with the neurological disorder RETT syndrome and attends the ACT pre-school. Vanessa calls Ella a "ferocious kicker" and continues to be amazed at Ella's increased strength. She believes that she will walk one day soon.
---
Congressman Sessions is a co-sponsor of the Achieving a Better Life Experience Act of 2013 or the ABLE act. The act would amend the Internal Revenue Code to establish exempt ABLE accounts to assist an individual with a disability in building an account for qualified disability expenses. These expenses could include education, housing, transportation, obtaining and maintaining employment, health and wellness and personal expenses.