For the last 10 years, PepsiCo's employee resource group, EnAble, has helped our clients celebrate Independence Day with a very special event. Every year, approximately 20 EnAble members come to our facility and grill hot dogs and provide Frito Lay and Pepsi products for more than 100 clients and staff members of ACT. Plus, Chester Cheetah, the Cheetos mascot, makes a special appearance and poses for photos with everyone.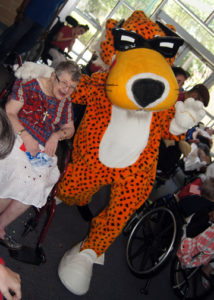 This annual event is capped off with an "indoor fireworks display," a unique experience as clients and volunteers parade through the halls that are lined with bubble wrap. As they are walking or traveling in their wheelchairs over the bubble wrap, it sounds like firecrackers going off! After the parade, everyone gets party poppers and streamers fill the lobby.
On this, the tenth anniversary of our partnership, we say a very special thank you to EnAble for their dedication to our clients.