Brenyon — #Iam1in5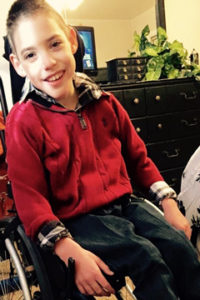 Brenyon, or B.B. for short, loves to look his best. Like most teenage boys he always wants the most trendy clothes and shoes. B.B. is an amazing boy who is loved by everyone in his school and town. B.B. also has cerebral palsy.
B.B. was diagnosed at age 3. His family knew from birth that he would be 1in5, but did not receive a diagnosis right away. Once receiving the diagnosis his family's reaction was to find resources to help him. During B.B.'s time in the hospital, a nurse recommended that they sign him up for the CLASS program due to the long wait. It can take as long as 10-12 years to receive services in the state of Texas. Ability Connection became a part of B.B.'s team and provides the necessary resources to enable his family to receive the care he needs.
B.B. never ceases to amaze his family. They have learned to be more patient and not to put themselves first. B.B. is always so happy and is very much loved by his family.
Abraham — #Iam1in5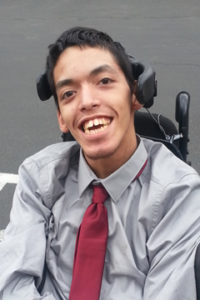 Abraham is a typical young man who enjoys social media, watching sports and hanging out with his friends and family. Abraham is also 1in5. Abraham was born with Cerebral Palsy and had difficulty communicating with his friends and family.
Abraham uses a communication device so he can communicate with his family and friends without difficulty. He uses eye gaze technology to access his social media, email and communication apps on a special device. Abraham used the Ability Connection Demonstration Center and attended our AAC User Group to gain a greater understanding of his communication device. Abraham is extremely proficient and is able to keep up with communication in real time. The communication device allows him to do the things he enjoys.
Like many 1in5, Abraham wants to be independent as possible. Abraham wants to be like every other kid and read, study and work. Abraham recently served on an advisory board for Texas Technology Access Program at University of Texas in Austin. Leah Gardner, Ability Connection's Director of Assistive Technology said "We appreciate having him represent our area and give a voice on the advisory board".
Amber — #Iam1in5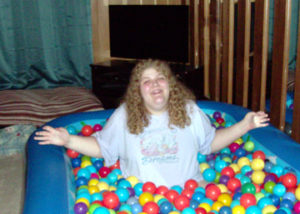 Amber was not diagnosed as 1in5 until she was two and a half years old. Amber is the youngest of three siblings and shortly after she was born, her mother noticed differences in her that were unlike her other two children. Amber did not seem to respond when her mother spoke to her and had very little interest in things her siblings did. At first, her mother thought she was hearing-impaired. Amber's mother was also fearful that something else was wrong. With a lot of courage and fear, Amber's mom mentioned her concerns to the pediatrician. A social worker then came to observe Amber at her home and within a few minutes she asked her mom if she was familiar with autism. Her stomach dropped, she didn't know much about autism. Amber was referred to a neurologist where they tested her hearing and it was perfect, confirming the diagnosis of autism. Amber's mom's heart sank, she could deal with her daughter being hearing impaired but she didn't think she could deal with autism.
Overwhelmed with little resources, her mother had no idea what to do. She enrolled Amber in the public school system at age 3. Today Amber is a young lady with low functioning autism. Amber is able to express what she needs in one word requests. She is unable to put together a sentence and her mother would give anything to have a conversation with her daughter. She's hopeful one day she can.
Amber's mother ensures that anything Amber wants to do happens. She tries her best to accommodate Amber. She may go to the store when it first opens to help Amber from being overwhelmed by large crowds. Amber has taught her mother to be more compassionate, patient and appreciate the little things. Ability Connection is involved in Amber and her mother's life and has allowed them control of Amber's care. Amber's mother wanted to be sure she was making the decisions about her daughter's care and she is very pleased with the support she has received from Ability Connection.
Isabella — #Iam1in5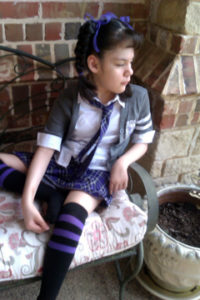 Two weeks before Isabella was born a sonogram showed a healthy baby girl on the way. But then at 27 weeks, excruciating abdominal pain sent her mother to the hospital. Born at 2lbs 7oz, Isabella was rushed a children's hospital where she would begin the fight for her life. After two days, Isabella's parents were told the devastating news that their baby was on life support. She had a grade 5 brain hemorrhage, blood in her lungs and wouldn't survive the night. It was recommended they take her off life support that day. Unwilling to give up on their daughter, they asked the doctors what options they had because they were never going to take their daughter off life support. Confident Isabella would be a miracle baby she underwent heart surgery. The days passed and Isabella began to prove she would indeed be a miracle baby.
Isabella continued to receive care at a children's hospital until she was 4 years old. She later moved to a new children's hospital where they began using a gate trainer to see if she could walk. She did! She took three steps and every week she took more and more steps. Isabella's mother was so overwhelmed with happiness seeing her daughter walk for the first time. She was told her daughter would never walk and Isabella yet again proved the doctors wrong. Years later, Isabella's legs locked up and she was forced to have surgery. The surgery left her immobile and unable to stand. Ability Connection has helped Isabella's family by having excellent communication regarding her care givers and has made the family's life easier. Isabella's mother is thrilled with the care Ability Connection has for her and her family.
Isabella has had 28 surgeries in her short 13 years of life. She is an amazingly smart girl who loves McDonalds, Chinese food, clapping to Michael Jackson's music, trick or treating, and Justin Bieber. Isabella's mother loves her daughter unconditionally. She says having a child that is disabled and has special needs is like being on a rollercoaster. It has its ups and downs, straight ways and curves; you never know what's coming up a drop or curve. You pray and hold on tight to each other until the ride stops. Although Isabella was not expected to survive nor was she ever expected to eat, walk, or talk, her parents never gave up on her. She reached those milestones in her own way.
Bradley — #Iam1in5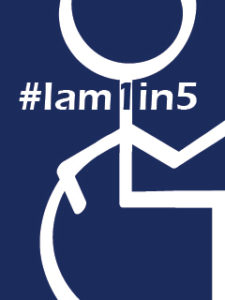 Bradley is a very active young man who is always on the go. You'll often find him at the movies or enjoying time with his friends. Bradley is also a 1in5. He wants you to know that someone with a disability has feelings and needs like everyone else.
With the help of the Ability Connection team, Bradley has learned to do many things on his own. Through Rec Therapy, or as Bradley would like to call it "Life Therapy", he has learned to schedule his own public transportation rides, plan a day at the movies or meet up with his friends. Life Therapy has really pushed Bradley to do things outside his home he normally wouldn't do. He also really enjoys Equest Therapy through Ability Connection. These two therapies have made a big difference in Bradley's life and have been greatly beneficially to his independence.
Being 1in5 has given Bradley a different perspective on life that he would not have if he did not have a disability. Bradley once had to depend on other people, but with programs through Ability Connection, he is able to live his own life more independently.
Dane — #Iam1in5
Born with cerebral palsy, Dane has gained a different perspective on life. Because he is often judged based on his disability; he works hard not judge other people. He is aware of the fact that there are people in the world who need help with many things and has learned to be very patient with himself and others.
With the help of Ability Connection, Dane has gained more independence and confidence; he knows he can do the things he wants to do, regardless of the challenges of being 1in5. Dane's Ability Connection case manager has helped him have more control over his life and achieve his goals.
Once Dane graduates college, he plans to be a family counselor. His dream is to work specifically with individuals with disabilities, like himself, and their families. Dane is very involved in a student organization and serves as the student leader. Dane loves to ride horses, write stories and play sports; he is a strong swimmer. He has also once co-piloted a small plane. Dane totally believes having a good attitude dictates how you live your life and he is proud to be 1in5.
Shelby — #Iam1in5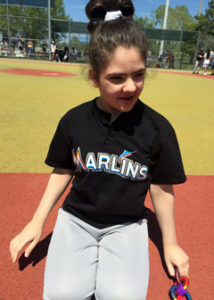 Shelby was born a premature baby. In the beginning there were no signs that she would be 1in5 until she was about fifteen months old. Her parents were devastated with the news of their little girl who was diagnosed with brain abnormalities and later autism. There was no indication during the pregnancy of any disabilities.
Ability Connection has helped Shelby's parents understand the disability services and programs they were eligible to receive and have always been supportive. Shelby has only been receiving assistance for the last 5 years. Prior to that, her parents paid for all of her needs through their own insurance. Shelby's life has helped her parents grow thicker skin. They have accepted the little things and live a simple life to ensure Shelby's needs are met. Shelby is like every other kid and she wants to be treated that way too. Her mom wants everyone to talk directly to someone with a disability and not be afraid because you don't know how to approach them.
Candi — #Iam1in5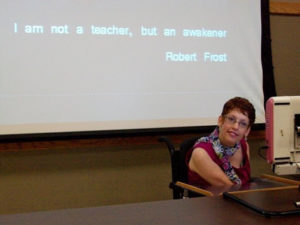 Candi became 1 in 5 at birth. She wasn't alive when she was born and the doctors fought hard for 45 minutes to save her. She miraculously survived, but the doctors told her parents she had Cerebral Palsy and a cognitive disability. Her parents divorced when she was six and she was often left in the care of her sister who was just three years older. When her mother remarried, she was sent to a school for children with disabilities and began a life of institutions and being away from her family. In the 26 years she was housed in institutions, she saw her mother once a year and her father visited her twice. Candi felt abandoned and rejected by her family. She often asked herself 'why me'. She just wanted to be like everyone else, she wanted to walk and talk and have someone be proud of her.
Candi was often misunderstood and underestimated because of her physical disability. She couldn't walk or talk. Intellectually, she knew everything that was going on but no one knew that besides her because she was unable to communicate. During her time at the institution a teacher saw something in Candi and encouraged her to dream. Unfortunately, the institution where she lived closed and Candi moved in with her sister. After Candi graduated High School, she moved into a Group Home in Terrell, Texas, where she lived for 10 years. At the group home she was very unhappy because she felt there was no one to believe in or encourage her. She spent all of her time on the computer, typing emails with her nose. She wanted a communication device, but the people in the group home where she lived wouldn't approve it. Finally, a new group manager started and he and his wife took a great interest in Candi. She asked him to help get her into the Partners in Policymaking program, which is an advocacy policy group. Shortly after they attended their first weekend meeting, he and his wife invited Candi to move into their home. They became her mom and dad. She attended the policy groups for eight months and after her training, she fired the company that was her service provider for 20 years and found Ability Connection. She felt Ability Connection's philosophy was in line with hers and provided the level of service she deserved. Ability Connection helped her get the communication device she longed for to live an independent life. Candi had dreamed of going to college for 15 years and now that was a possibility, she enrolled in 2006.
Now that Candi had such a positive outlook on life she reached out to her father. Her father apologized and was surprised by how much she had progressed and that she achieved more than he ever imaged she would. He asked Candi to forgive him for not being the father he should have been and she let him know she had already forgiven him before he asked. They had a close relationship until his passing. She had also learned to love her mother for who she was and had forgiven her.
Candi says when you have needed help all of your life, it is important to find a way to help other people. She used to think her disability made her less of a person but now she knows its part of her life plan to be in her body. If you know someone with a disability, Candi doesn't want you to give up on them and realize they are a person and have feelings and want the same things as you do.