At Ability Connection, we take tremendous pride in the fact that we provide services in our Training Centers to the full gamut of developmental disabilities. We serve members who focus on independent living skills and have jobs in the community, but we also serve a high number of people for whom the life impact of their disability is very significant. Many of these individuals have complex service needs and require a substantial amount of assistance and support. Our goal continues to be ensuring all of our members, including individuals with the most complex service needs, enjoy the same quality of life as their nondisabled peers. Our activities are geared towards engaging members and enhancing their experiences, while providing as much opportunity for independent choices and actions as possible. But could we do better? The answer is yes!
Recently, Ability Connection, in partnership with Building Bridges Therapy Programs, embarked on a new pilot program geared towards "stretching" the capacity of some of our members with more complex service needs. I have never been a big fan of organizations that boast their programs help people to achieve their "maximum potential." Nonsense, if you ask me.  First of all, how do you measure maximum potential? Do you know anybody who has reached maximum potential? Having said that, I do believe that, with the right support, people can grow and realize potential that was previously thought to be unattainable. That is exactly what this new partnership with Building Bridges has shown. Five days a week, a group of members receive 45 minutes of group Speech Therapy and 45 minutes of group Occupational Therapy. This might not sound like a lot, but the therapists fill this time with plenty of engagement, activities, and high energy. The group setting affords the members opportunities for peer interactions, as well as modeling life skills for each other.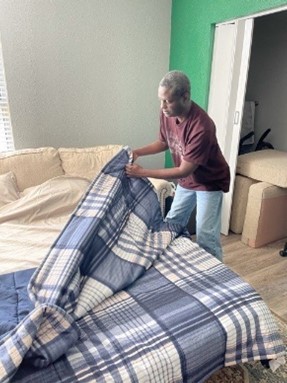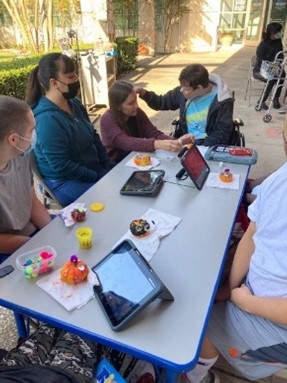 The success of this program is amazing. We have seen an abundance of growth in communication and independent living skills among participating members. Some members have become more proficient in using their augmentative communication devices AND using their voices within the group. Some have learned how to participate in group activities, and others have demonstrated independent living skills beyond what was thought to be a reasonable expectation. The sister of one of our members was amazed when she came to visit and made her bed without even being asked!
We plan to build on the success of this program by increasing the capacity of our staff in the Training Centers to engage the members as the therapists do, and by continuing the small group therapy with additional members. Everyone, regardless of the life impact of their disability, can grow and enjoy a higher quality of life, and we are so thrilled that this approach has shown this. More to come…