Volunteer Opportunities at Ability Connection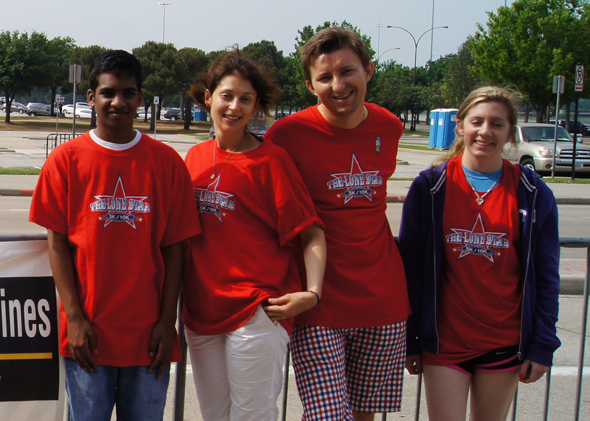 Ability Connection has a wide variety of volunteer opportunities available to individuals or groups. Let us know about your ideas, talents or interests, and we'll work to provide you a meaningful volunteer experience that will not only help Ability Connection but will provide you with a lasting experience knowing you have directly helped people with disabilities in our community!
If you are interested in volunteering, please click the "Contact Us" link in the menu above and fill out the form. We will get back with you shortly. Individuals and groups interested in volunteering must complete the Volunteer Application Form and submit it to the human resource department prior to scheduling volunteer activities.
Download the Ability Connection Volunteer Handbook
Download the Ability Connection Volunteer Application Form
Send your forms to our Volunteer Coordinator:
Landon Cole- Volunteer Coordinator & Community Outreach Coordinator
214.351.2500 ext 2255
lcole@abilityconnection.org
Make a Difference for Those Often Most Forgotten, Most Neglected
Volunteer to Support Children and Adults with Disabilities
Help Individuals with Disabilities Achieve Their Highest Level of Independence
Promote Social Inclusion
Current Volunteer Opportunities
Reading Initiative
The Reading Initiative is a volunteer opportunity involving direct engagement with students/clients that have developmental disabilities who are at varying reading levels. For clients who are unable to read, volunteers read to individual or groups of clients. For students/clients with beginning reading skills, volunteers help clients read with one-to-one assistance. For clients with strong reading skills, volunteers listen as clients do the reading themselves. The Reading Initiative allows both experienced and inexperienced volunteers to contribute in a meaningful way. Reading sessions are available throughout each week.
Direct Engagement
Interact and support students and clients with disabilities at our training centers or group homes. Assist and engage clients in a learning environment through health & fitness, vocational training, games, reading, arts & music, learning goals, computer activities and other independent living skills. Chaperone clients on our Community Inclusion field trips.
Group Home Restoration
Assist with minor renovations, landscaping or other projects to improve where our clients live, work and play. Several of our group homes are 40+ years old and in need of some upgrades.
Other Support
Share your talents in music, art, exercise, therapy, dance, cooking, gardening, etc. and create a custom activity or service for our clients or our facilities. Serve on an organizing committee for our fundraising and special events.
For information, registering to volunteer, and to help change lives of children and adults with disabilities, contact:
Landon Cole
Volunteer/Community Outreach Coordinator
Main: 214 247 4551
Email: lcole@abilityconnection.org